This is a sign I saw on the road from Las Cruces to Tucson.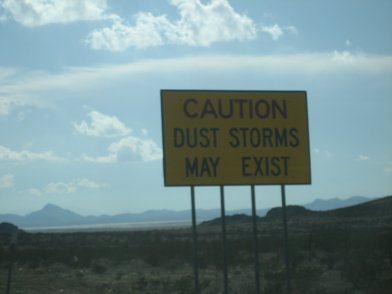 So. What does it mean?
Is it a description of what might be? That there is a possibility of dust storms? Here, and now, but not other wheres or whens? Or is it (as we were reprimanded by our mothers or English teachers) simply an expression of permission for dust storms to exist? By whom? Our betters in Santa Fe, or Phoenix? These are state-sanctioned dust storms? And they're not permitted elsewhere?
Or is it more of a Heisenbergian deal? That dust storms simultaneously both exist and don't exist, and which is the case is determined only when one collapses the wave function by driving down the road to Lordsburg?
I'll never know for sure, of course, but I can say that I never saw a dust storm on the trip.
Next up (or perhaps other things in between) — a road sign that I liked a lot more, on the American autobahn. There are a few things that the Germans got right.