A thirty-meter-diameter asteroid is going to pass within twenty-five thousand miles of the planet this afternoon (America time).
That is very close–about a fifth of the distance to the moon and well inside its orbit. A few thousand miles lower, and it could take out a geostationary satellite. If it were to hit land, it might leave a scar something like this.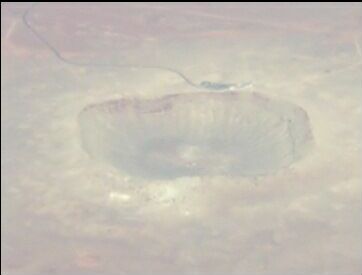 And of course, like all bad things that happen, it will be Bush's fault.
I took the picture Tuesday on a flight from Fort Lauderdale to LA, over Winslow, Arizona. The crater is almost a mile in diameter and about a two and a half miles in circumference. When it hit, back during the Pleistocene, it probably wiped out all life for many miles around. You can read more about it here.
Just another reminder that we have to start paying attention to these things.
[Update at 1:20 PM PST]
Clayton Cramer has more details.