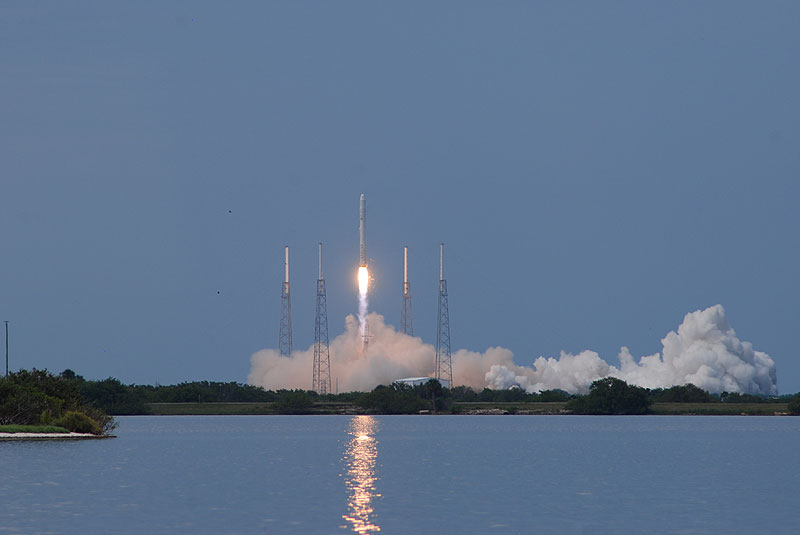 We don't know if they've successfully achieved orbit, but they were well on their way when we lost contact, and this was a pretty successful first flight even if something goes wrong at the end. It won't quiet the people whining about "hobbyists," and "toy rockets," but they were always idiots.
It was particularly impressive that they had a successful launch within two hours of an ignition abort. I don't think anyone else in the business can recycle that fast.
I'm hearing that they had a minor roll problem with the second stage. That actually reassures me — the flight was looking too good for a first flight. It's nice to catch something to fix — that's what test flights are for. And it seems to be robust, because the guidance system seems to have gotten them to the designated orbit even with the problem.
[Update a few minutes later]
The SpaceFlightNow webcast is showing Bolden saying something, but I don't have audio.
[Update at 12:30 Pacific]
The Youtubes are going up.
And my email to Gwynne and her reply:
Hundreds and Thank you!

—–Original Message—–
From: Rand Simberg
Sent: Friday, June 04, 2010 8:55 AM
To: Gwynne Shotwell
Subject: Congratulations

You'll be getting a lot of emails like this, I'll bet.

It's a new world. And many more.
It will be very interesting to see how this affects the debate, if at all.
[Update mid afternoon]
Apparently the chutes didn't open on the first stage. I don't know if that means it will be unrecoverable, but it won't be in good shape. "Debris field" doesn't sound good. One more thing to wring the bugs out of.
[Update a few minutes later]
First-stage chute deployment is one of the things that they didn't test, I think. At least until today. I suspect they just decided that the cheapest way to test it would be on the first flight, instead of spending extra money on a drop test, which wouldn't be practical from the separation altitude anyway. It's just a cost issue, and not mission critical. They'll have plenty of flights to sort it out.