The press conference starts in about half an hour. I see though, that they have more info at the web site:
An inflatable habitat module will be deployed after launch and detached prior to re-entry.
So they're not crazy enough to spend over sixteen months in a cramped capsule.
[Update a couple minutes later]
They're already streaming from the press club. I see Jim Muncy talking on the phone in front of the speakers' chairs.
[Update a while later]
I think I see Jim Keravala of Shackleton Energy Company in the front row, and closer to the camera, the back of Jeff Foust. And now I see Seth Borenstein, from AP.
[Update at 12:56 EDT]
Speakers seated now. Looks like (left to right) Tito, Taber, Jon Clark and Jane Poynter. Sharon Grace from AIAA just came in.
OK, Miles O'Brien is MCing. "Simplicity, audacity, liquidity."
Jeff Foust has a picture.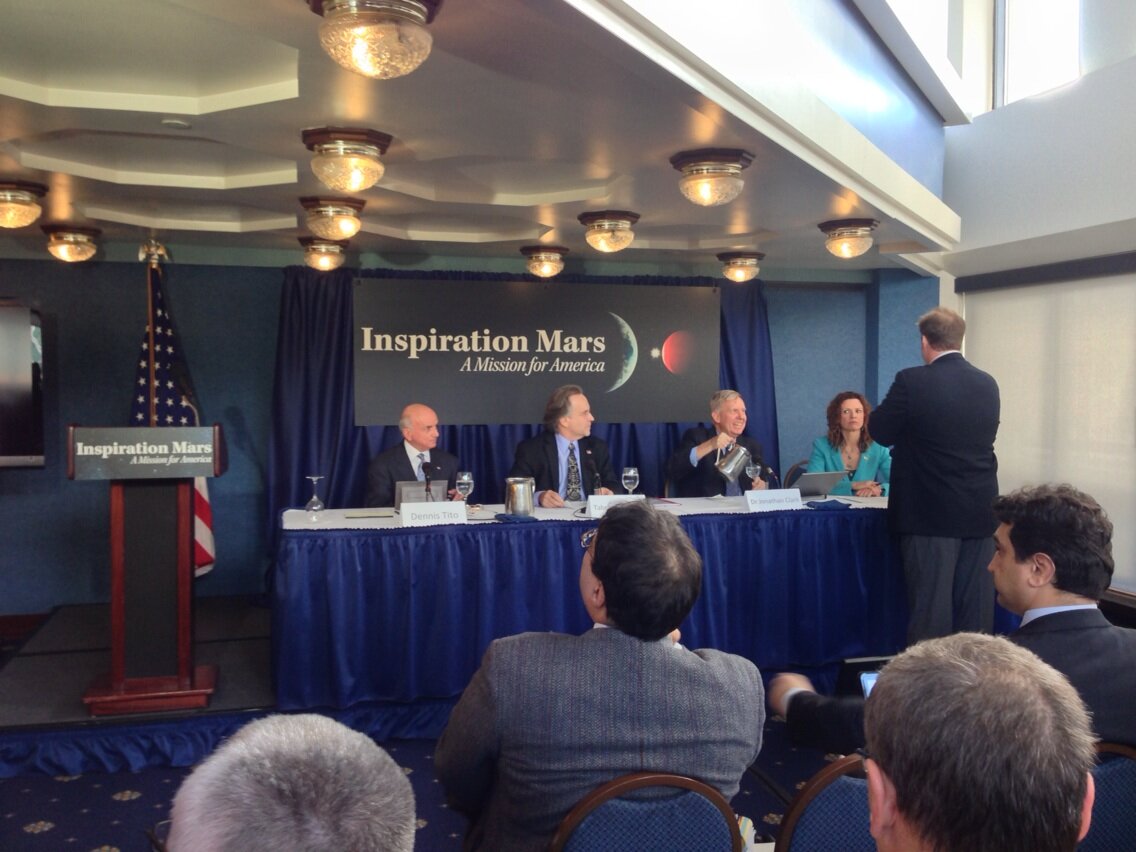 You can see Keravala on the right edge of the shot.
O'Brien: "Sometimes you just have to weight anchor and shove off."
This certainly fits in with the theme of my book.
Tito speaking now.
"Need to learn how crew responds to deep-space missions before attempting a landing."
"This mission is a low-hanging fruit."
Miles O'Brien just tweeted: "#InspirationMars seeking committed couples for a 501 day round trip to #Mars and back. No stopping for directions!"
"I will come out a lot poorer as a result of this mission, but my grandchildren will be enriched."
Here's an interview that Jeff Foust did with Taber yesterday. "It all sort of kept working out."
"No show stoppers, funding for first two years out of my pocket."
"Media rights will be incredible, imagine Dr. Phil talking to the couple about their problems."
Taber speaking now.
It strikes me that Taber and Jane are obvious crew candidates.
[Update a while later]
Now saluting the "program of record" (i.e., SLS/Orion). "Needed to actually explore Mars with team of scientists." Can just barely do a flyby with current hardware.
Jonathan Clark about to speak now. It just occurs to me that it's been almost exactly ten years (February 1) since he lost his wife on Columbia.
Jane speaking now. "Really long road trip in an RV, about a year and a half, and you can't get out." 3000 pounds of freeze-dried food, that will be rehydrated with the water you drank a couple days earlier.
[Update after end of conference]
Seth Borenstein: "Are you crazy?" OK, that was a paraphrase. Good response by Tito to his skepticism. I was thinking Apollo 8 and STS-1 when he was asking if this isn't too risky, how do you do it without test flights, how do you do it in five years, bla bla bla.
Jon Clark pointing out that main crew health is a mission operational issue, because they are a part of the system in the need for them to maintain it. Can deal with cancer issues when the get back, but have to be sure that they are capable of performing throughout the mission.
Frank Morring of AvWeek asking about milestones to hit five-year deadline. When will crew be selected?
Taber: Dennis has committed to two years, and they don't need to worry about money. Have signed Space Act agreement, life support under development, have to put together vehicle strategy soon to hold schedule. Clark says that it is a milestone-driven program. I would note that this is one of the advantages of having a limited window that you have to hit — it concentrates the mind, programmatically.
[Update toward the end of questioning]
Clark Lindsey has some good notes of the event.