Last but far from least, we conclude our tour of the new Californias with the one furthest south, shown as orange on the map.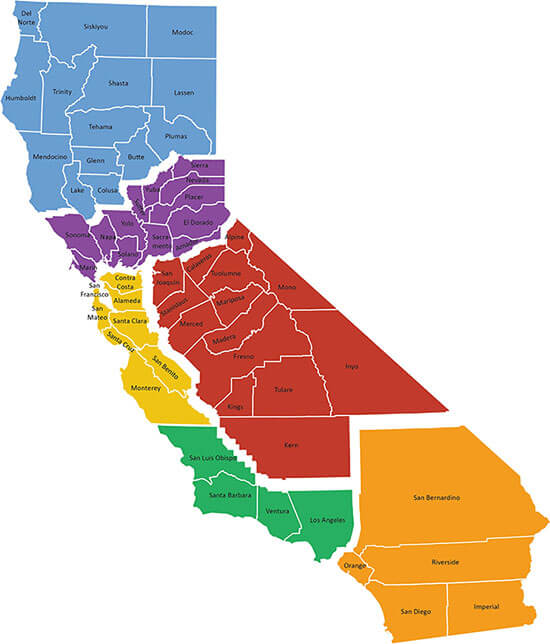 Comprised of the huge (by area) counties to the south and east of West California, South California will be almost as large, with an initial population of a little under eleven million, larger than Georgia, Michigan or North Carolina, but smaller than Ohio. Stretching east across the barren Mojave desert to the Arizona border, but with Orange and San Diego counties, it will be a coastal economic powerhouse as well, but with a more conservative and economically sensible electorate. San Diego would be the most logical state capital, though San Bernardino or Riverside might be preferable for their more central location.
Coastal South California, with its moderate climate, will be a highly desirable living location, and popular tourist destination. It will have the Disney parks in Anaheim and Knotts Berry Farm in Buena Park, Legoland in Carlsbad, and the San Diego zoos in the city and Escondido. South California will have the wine country and ballooning of Temecula and, as with West California, it will be possible to ski in the mountains (San Bernardinos) and hit the surf of Orange and San Diego counties on the same day. To the east, Palm Springs and associated resort communities will maintain their popularity, particularly in the winter. As long as it can get water, either from the river or from coastal desalinization, it will continue to have a strong agricultural industry in the Imperial Valley.
The higher-education system will already be world class. USC Irvine may become the flagship for the University of South California. USC San Diego will continue to breed a biotech industry to the south, and USC Riverside, with its new medical school and hospital, will continue to be a leader in medical technology and techniques. Though it's not as energy rich as the other states to the north, the old Brea-Olinda field still has millions of barrels of recoverable oil and, in a new political environment, more drilling might occur off the coast of Huntington Beach. San Diego will continue to remain a major naval installation. As long as it can continue to get water from the Colorado River, Imperial County will continue to be a major producer of agriculture.
With facilities in Chino, Norco, Corona, Centinela, Calipatria, Ironwood and Chuckawalla in Blythe, and Ray Donovan in San Diego, South California may be the state best matched between its prisons and its own prisoners, but it's possible that it could have to import from or export some of them to other states.
But like Silicon Valley and West California, South California will have a water problem, though not as much of one with regard to the break up because, like the Imperial Valley to the east, San Diego gets about half of its water from the Colorado River, not from Central California. Either way, it too will have to start desalinating in the future in order to sustain its current and growing population.
While the Alameda Corridor that funnels containers to and from ships into and from truck and rail will be in West California, South California's northern border in Orange County will be just a few miles from the Port of Los Angeles, the largest port on the west coast. As discussed in the description of West California, South California's physical and business climate will be very tempting to businesses and residents who like the weather and scenery, but are weary of the taxes and regulations of Los Angeles County (and the current state of California). There is already aerospace there, with Boeing in Huntington Beach, Lockheed Martin in San Diego, and Northrop Grumman in San Bernardino, and it wouldn't be surprising to see those companies pull up stakes in their West California facilities and head south and east, along with SpaceX.
What will it look like politically? Historically, the area has been Republican. Orange County was notoriously conservative in the fifties through seventies, and San Diego still regularly elects Republican mayors, the current one having been elected in the wake of the Democrats' Filner scandal. While that has changed somewhat with the influx of Hispanics and Asians (e.g., Garden Grove and Westminster in Orange County are often referred to as "Little Saigon"), the region still has a slight Republican edge in registration (38%, to 35% for Democrats), and another 3% are American Independent. 22% are unaffiliated. If the migration from West California occurs, the electorate will become even more conservative and allergic to big government. Moreover, South California will be on the front lines of the violence and lawlessness associated with the unwillingness of Sacramento to help control the border just to its south. It will likely want to elect a governor more willing to deal with the problem locally (as Rick Perry has been doing in Texas), and senators and a president more willing to step up federal enforcement than Senators Boxer and Feinstein and President Obama have been. It's likely that all of these factors will combine to make this new large state reliably Republican, and probably conservative rather than establishment Republican, at least when it comes to the border.