Moving on in our examination of Tim Draper's six Californias, from Nuevo Colorado (aka Central California), we come to the new state of West California. It's ironic that it's shown as green on the map, considering that it will be born into pension and welfare poverty.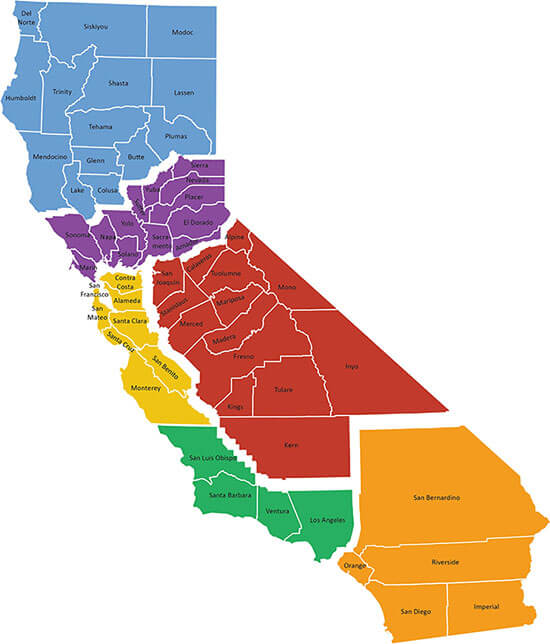 The center of political and population gravity of this new state will be Los Angeles County. The city of Los Angeles will be its obvious capital, with the current City Hall perhaps becoming the capitol building. The state will stretch from there up the coast through Ventura, Santa Barbara and up to San Luis Obispo. Currently at almost eleven million in population, it will be the largest of the new states, slightly larger than Ohio, but smaller than Pennsylvania or Illinois.
It will have the wine country of the Santa Ynez valley north of Santa Barbara, and the coastal communities of that city, Ventura, Pismo Beach, Morro Bay, and southern Big Sur. It will also have the launch site at Vandenberg Air Force Base and the associated space industry in Lompoc and Santa Maria. It will have the Tehachapi mountains to the north, and the Antelope Valley communities of Palmdale and Lancaster, with their aerospace employment. But its economy will be dominated by Los Angeles and its port and industries, including entertainment and aerospace. It will continue to have its world-class private universities of the University of Southern California and the California Institute of Technology, and Cal Poly in Pomona and San Luis Obispo, and Pepperdine in Malibu. UCLA will probably become UWC, the University of West California, and the existing Cal State campuses in Northridge, Long Beach, Dominguez Hills and others will become West Cal State campuses.
It will have problems, though. Like Silicon Valley and (to a lesser degree) South California, it will be dependent on Central California for water, and it may ultimately have no other solution than desalinization from Santa Monica Bay (and the ocean of Los Angeles Harbor), which will require power plants, that the region has been shutting down, rather than building.
Also as with Silicon Valley, with its street gangs and poverty, it is likely to produce more criminality than it can locally consume, with only the state prison in Lancaster and the mens' colony in San Luis Obispo. So it will require either the construction of new facilities, or paying the other states to house them.
A bigger problem, though, is that in its populace and voting patterns, it will be a welfare state, and one no longer able to rely on taxing other wealth-producing parts of the current state. Many of California's current pension problems will become West California's pension problems. In thrall to the public-employee unions, as it continues to raise taxes to try to meet its obligations, while continuing to provide substandard education and public safety in return, it will continue to lose business to other states. Except that trend will accelerate, because unlike Nissan moving to Tennessee, or Toyota moving its headquarters to Texas, which involved a considerable distance and lifestyle change for its employees, it will be possible to just move south of the border to Orange County, in South California. Aerospace companies currently in Palmdale and Lancaster may choose to move a few miles north to Central California. Space Exploration Technologies (SpaceX) in Hawthorne is already starting to run out of room in its rocket factory, already the largest in the world, and an expansion or move a few miles south will look very attractive to both its founder and employees, who love the geography and climate of current California, if not its taxes and regulations. Hollywood has already lost a lot of film production to other states, and might move it just to the east in San Bernardino and Riverside, as much of the Valley pornography industry did in the wake of condom requirements imposed by the city of Los Angeles. As it loses industry to more desirable nearby states, the new state could go into a death spiral that would force serious reform, including the possibility of bankruptcy to escape the pension obligations.
How would it vote? Like Silicon Valley, current registration is about half Democrat (49+%). Fewer than a quarter of the registered voters are Republican. In fact, other parties or no preference total more than the Republican registration in the region. Due to the flight that could be expected with the creation of the new states of Central and South California, as described previously, it's likely that Democrats would become a very solid majority. If they continue their current policies, it's likely that West California would discover what happens when, in Margaret Thatcher's words, it runs out of other peoples' money.
Finally, last but certainly not least, a brief tour of South California.