From our household, which just doubled in size with the new additions to the family.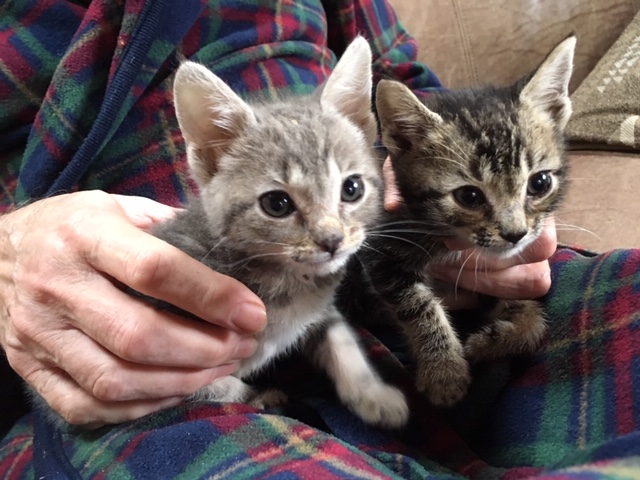 We'd been catless since Rerun died of abdominal cancer sixteen months ago. We hadn't replaced her because (in addition to the fact that she was irreplaceable) things have been too crazy, with me traveling so much and the Florida house. But on Saturday, we decided to get ourselves a Christmas present, and provide one for cats that needed a home. They're sisters, six weeks old, part of a litter of four (the other two were boys, who were adopted as well, by another couple). They'd been found in a homeless encampment in LA; their feral mother was ill with pneumonia and too sick to feed them, so they were raised on a bottle. But they're very friendly and love to be held, and to fight with each other. I think they'll grow up to be good cats, and good companions, to us and to each other.
Yesterday, her second day in the house, the dark one on the right fell off the living-room ledge halfway down the stairs (about a sixfour-foot drop to a carpeted step), which literally scared the poop out of her. But we cleaned it up, and she seems to be using the litter box now.
And here (via Instapundit) is a little Christmas gift from Allison Krauss and Yo-Yo Ma.
[Mid-afternoon update]
Something I hadn't done in a long time: Made Christmas cookies with my late mother's 50s-era cookie gun. Martha Stewart recipe. pic.twitter.com/rekf1WzYld

— Rand Simberg (@Rand_Simberg) December 25, 2018
[Evening update]
For those curious, here is the recipe. I've long ago lost the box that the gun came in, but still have all the pieces, and keep them in a gallon ziplock, including the original instructions. I'm not sure which of the recipes she used (or I have, in the past) but they all require refrigeration before loading the gun, which is a PITA, especially if making multiple batches for different colors. What I liked about the Stewart recipe is that it can be done at room temperature, and it worked pretty much perfectly. But (as one commenter notes), do not use unsifted flour. It will make it far too dense if you measure it unsifted. Fortunately, I also have an ancient sifter from the same era (which I rarely use, now that I don't bake much on a keto-ish diet).