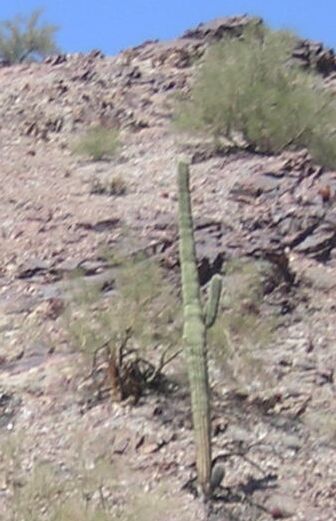 I've always been fascinated by how quickly the flora can change in just a short distance. Driving to Phoenix from LA on Thursday, I shot this picture of a saguaro–the first one I saw on the trip (forgive the quality–I shot it from a moving car, and cropped it from a much larger photo). It was just a few miles east of the California/Arizona border (and accordingly just a few miles east of the Colorado River). I've never seen a saguaro in California–they seem to know where the state border is, at least at this latitude.
This is the transition region from the desolate Colorado Desert (the low desert south of the Mojave that encompasses much of non-coastal non-mountainous southern California) and the beautiful and cactus-filled Sonoran Desert, of which the saguaro cactus is emblematic. It doesn't seem to be the river itself that demarks it–you don't see the cactus until you start to climb up into the hills just east of it, out of Blythe. Apparently it's a combination of longitude and altitude, though as you get farther east and south, toward Tucson where the national monuments are, the suitable altitude can vary considerably.
I'm still going to post on the conference itself, but this is the only picture that came out well, other than one of Jim Muncy. I didn't have enough light from the distance I was at with my little two megapixel Nikon.